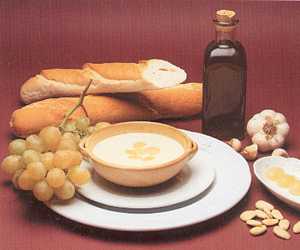 пїЅ
The soup Ajo blanco is a typical dish of Spanish cuisine, specifically of Andalusia, between Granada and Malaga. Specifically is a cold soup made from stale bread almonds, chopped, garlic, milk, water, oil, salt and vinegar, served especially with white grape berries, stripped and deprived of seeds. It's a kind of alternative version of the classic gazpacho, leaving as basic bread ingredients, water, oil and garlic. It is said that when the almonds were not available were used dried beans reduced into flour for this refreshing and cold dish served in Spain especially in summer.
Ingredients for the soup ajoblanco (doses for 4 people):
Preparation:
Pour the milk into a bowl and ammollatevi to breadcrumbs cut into little pieces until it impregnate.
Chopped almonds and crushed the garlic cloves peeled. Garlic and almonds to United mollica, salt and stir.
Blend everything until well-mixed and incorporated the oil. Continue to whisk until you have a creamy mixture, then the vinegar incorporated and a cup and a half of ice-cold water.
Cover with foil and place in refrigerator for at least one hour. Raised from the fridge, adjust salt and garnish with a few private white grape Berry seeds and Peel, then serve.
Photos from cozinhadajanita.blogspot.com