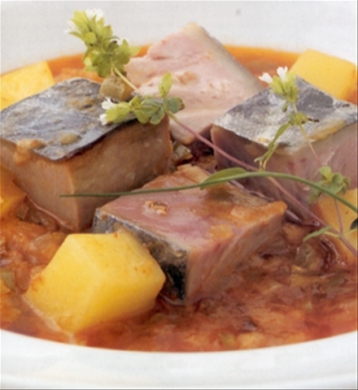 The marmitako is a Chowder of Basque country, and takes its name from the type of pot where you kitchen, Marmita. For anyone who has ever heard, is based fresh tuna, potatoes and peppers, stewed together with onion, Laurel, paprika and tomatoes. Fresh tuna recommended for this preparation is called Bonito del Norte: is a specialty of smaller tuna that has dark lines on the part of the spine. Nutritionally the Bonito is less fat and less fibrous than normal tuna, but it is difficult to find in Italy. You will need to be excused to buy in the Basque country or use a regular tuna!
Ingredients for the marmitako (doses for 4 people):
500 g of fresh tuna in trance 400 g patate400 g of tomatoes 1 green pepper, sweet 2 cipolle1 porro1 aglio2 clove leaf oil ml alloro100 oliva1 paprika TSP dolce1 sprig prezzemoloSalePepe
Preparation:
Peel the potatoes and cut them into cubes. Clean the peppers, then lapped by cutting and removing the seeds and the white part, riducetelo still smaller strips.
The tomatoes Dip briefly in boiling water, sgocciolateli, spellateli and cut into cubes by removing the seeds. The tuna Cut into small cubes by removing the skin.
Peel the garlic, onions and leeks, and mince finely. Saute in a pan with oil sausage; When will they withered add potatoes.
Cook for about 5 minutes, then add the peppers and tomatoes, the Laurel then. Fairies flavour for about 5 minutes, then add a little more than a liter of water and paprika, leaving Bake until potatoes are beginning to soften.
Add tuna, salt and pepper, and let it continue cooking for another 5 minutes, until the tuna is tender. Do not cook too to prevent tuna harden. Sprinkle with chopped parsley the and serve.